Google provides some great tools to help you become more visible in the SERPS, that's the search engine results pages. The tools can be found in Webmaster Tools which is now called search console. just type "Webmasters Tools" into google and you'll find it.  Fast becoming one of my favourites is the data highlighter. This is a tool that allows you to highlight information on your web pages to tell Google more about what's on the page.
It's great to use for publicising events and I'm using it to let Google have more information about the SEO & Blogging course that I'm running.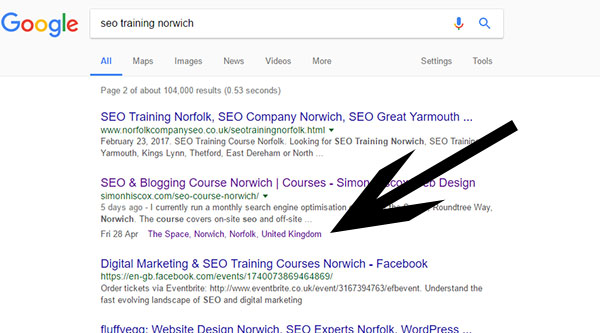 It does take a bit of time to get used to and I have had to go back in to it and edit a few things occasionally, as it doesn't always set the fields correctly, but the result is worth it as you can see from the image adjacent. It shows the event with a link to the page with the information snippet.
You can do this type of mark up with the following data types:
Articles
Events
Local businesses
Restaurants
Products
Software Applications
Movies
TV Episodes
Books
The great thing about data highlighter is that you don't need any specialist knowledge to make it work. You simply highlight the data from the console within Search Console and save the information.
If you'd like me to help you with this, please do not hesitate to contact me by phoning 01603 383477 or filling in my contact form.